Come celebrate, mourn and breathe a sign of relief that the election is all over! Pivot Arts presents LIVE TALK: THE DAY AFTER as part of Steppenwolf Theatre Company's LookOut Series on Wednesday, November 9, the day after the most bizzare election in modern U.S. history. Hosted by the charming Isaac Gomez with quirky, performances by Chicago favorite fringe artists Theater Oobleck, clown pair Leah Rose Urzendowski Courserand Anthony Courser, Ida Elizabeth Cuttler (of The Neo-Futurists) and one of Chicago's most important Spoken Word/HipHop Artists, PHENOM. An interview with TBA special guest helps put the election in context (or behind us). PLUS... there's a pre-show reception at Chez Moi from 6-730pm!!! Don't miss it! 
Live Talk Performance at The STEPPHENWOLF THEATRE COMPANY!!! 

BUY TICKETS HERE: https://www.steppenwolf.org/tickets--events/seasons/2016-17/live-talk-the-day-after/?id=22137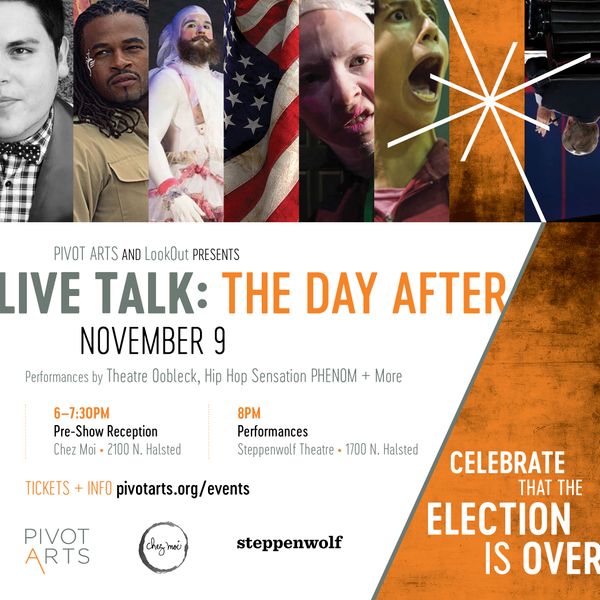 Live Talk Reception: $22 for cocktails and apps before the show. Purchase tickets here: http://www.brownpapertickets.com/event/2706170 
COMPLETE LINE-UP AND INFORMATION: http://pivotarts.org/events/ and see below! 
Line-Up Includes: 
Jim Lehrer and the Theater and its Double and Jim Lehrer's Double 
A Staged Reading of New Work By Theater Oobleck's Mickle Maher. Maher's play THE STRANGERER was a sell-out success and commentary on the debate between John Kerry and George W. Bush. His newest work is a comic-gothic-horror tale sequel to THE STRANGERER featuring a fictional Jim Lehrer as played by beloved Chicago fringe actors Colm O'Reilly and Brian Shaw. 
The?Unicorn?Hour? 
created and performed by clowns and physical comediennes, Leah Urzendowski and Anthony Courser, The?Unicorn?Hour? will enthrall and entertain and is like nothing you've seen before. Come bring joy! 
The Pivot DIY demonstrated and performed by Ida Cuttler. Ida, fabulous Neo-Futurist performer, gives us an election-themed do-it-yourself lesson. 
PHENOM, one of Chicago's most important Unsigned Spoken-Word/HipHop Artists and co-founder of The LYRIC Mentoring Organization founded in 2009 is on a mission of cultural and community reform thru Hiphop. This electrifying artist, trained by Michelle Obama will present "The Rise" from his latest album release "I Didn't Come I Was Sent". He is purely an inspiration that will motivate Steppenwolf Theater fans to get involved in the future of our youth!