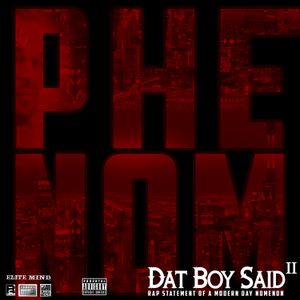 ​PHENOM - DATBOYSAID 2 (Mixtape) 
Stream: 
Download: https://www.dropbox.com/s/ohq11zanr1bto9o/PHENOM%20-%20DBS2%20Final.zip?dl=0 
PHENOM, a veteran Chicago Emcee/ Spoken Word Poet 
releases his new mixtape DAT BOY SAID 2. 
The mixtape features previous released loosey's such as the reggae infused/ hard hitting barz on "Thicker Than Blood"; the summer cruise anthem "Back Drop" and the HipHopDX premiered visual for "Intro". DBS 2 is the first full PHENOM's first full project since his critically acclaimed 2015 album "I Didn't Come I Was Sent". 
With recent ties to Chance The Rapper & Open Mike Chicago; PHENOM has been expanding his fan base since his 2015 release of his album last album. 
-- 
www.PHENOMUniversal.com 
instagram.com/DatBoySaid 
Twitter.com/PHENOM18 
facebook.com/PHENOMUniversal